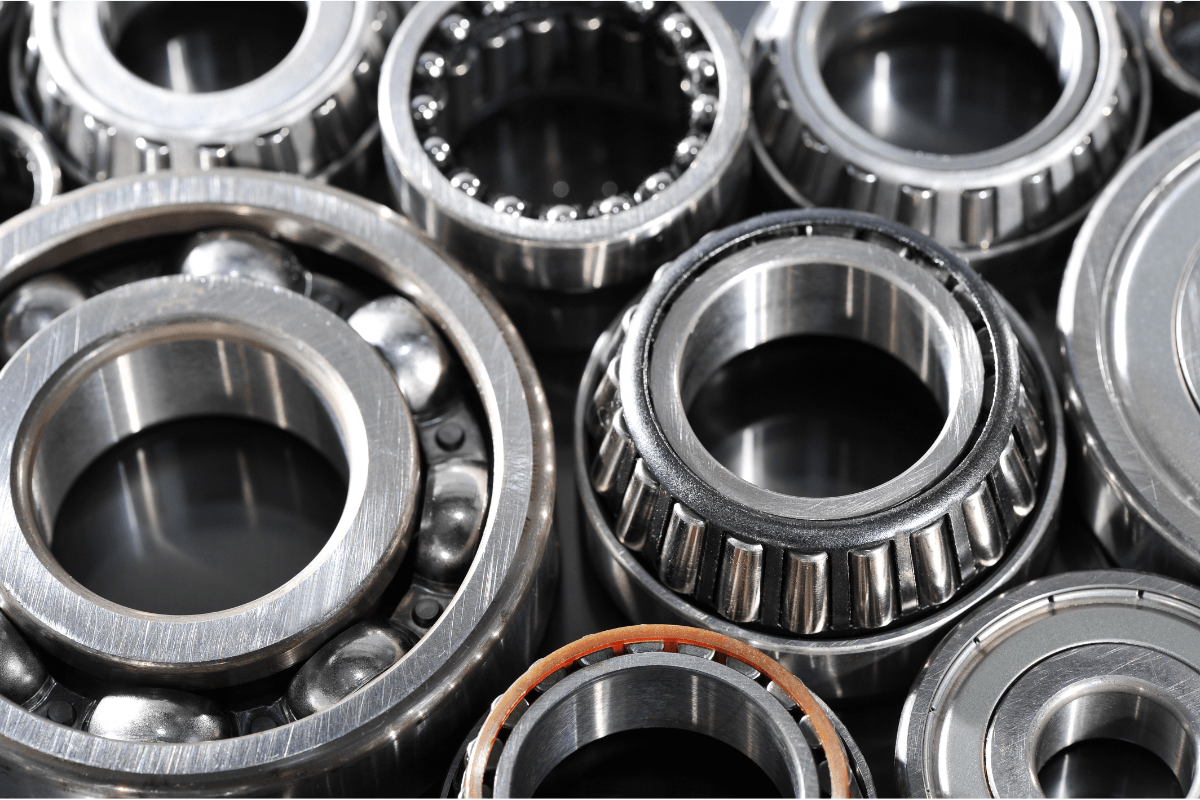 What Are The Different Types Of Ball Bearings?
There are several different types of ball bearings used in industrial components, construction plant, and machinery. In this article, we introduce the seven main categories of ball bearing so you can make an informed choice for your application. If you are unsure or would like to speak with one of our experienced advisers about the best option for your project, please call 01233 663340 today.
Types of full bearings and their uses
1. Deep Groove Ball Bearings
'Deep groove' ball bearings are the most widely used type of ball bearing component in automotive and mechanical systems – including many types of industrial equipment, and are capable of supporting both axial 'thrust' and radial loads. Deep groove bearings are also well suited to high-speed operations.
2. Angular Contact Ball Bearings
Similarly to deep groove bearings, angular contact ball bearings are designed to accommodate both radial and axial loads. The difference is that angular contact bearings can handle heavier loads than deep groove due to their greater contact angle. Common applications for angular contact ball bearings include precision machining tools and other industrial equipment that requires high accuracy and tight tolerance margins
3. Self-Aligning Ball Bearings
Self-aligning ball bearings are designed to self-adjust during operation to correct their alignment angle – e.g. when the shaft and housing components become misaligned due to loading or operating speed errors. Comprising an outer ring, inner ring, rolling element, and cage, these robust components deliver good running accuracy and minimal vibration and noise levels, making them a good choice for pumps and fans in motors and mechanical systems.
4. Thrust Ball Bearings
Thrust ball bearings are specialist components designed to accommodate axial or thrust loads, making them the bearing of choice for applications like turbine shafts or machine tools, in which axial forces are strong but radial forces are either absent, or not significant enough to require additional support. Thrust bearings consist of two grooved rings with rows of balls held together by a cage assembly.
5. Insert Ball Bearings
Insert ball bearings are designed to be inserted directly into housing fixtures within compact applications, providing a secure fitment in applications like motors and pumps, in which precision positioning is required without much available installation space. Insert ball bearings are also known as flange units or housed units and are capable of withstanding intense loads within heavy duty machinery over sustained operating periods.
6. Double Row Ball Bearings
A double row ball bearing consists of two side-by-side rows of balls situated within a single outer ring – giving them a higher radial load bearing capacity than single row bearings, whilst still allowing relatively free movement within the bearing itself. Double row ball bearings are commonly used within construction applications and conveyor systems.
7. Miniature And Precision Ball Bearings
Miniature/precision ball bearings are small diameter, high-performance components designed for high-speed and complex applications – common examples include high speed motors, and robotic arms used in automotive and aerospace manufacturing. These miniature bearings are designed to accommodate compact spaces with little room for error, and usually require special grease lubrication in place of the more common oil lubrication used on other bearings, due to their close tolerances and small size.
Next Steps – Download Our Bearings Catalogue
To find out more about our product range, and the types of ball bearings most suited to your application, please download a free copy of our bearings catalogue today, or speak to one of our knowledgeable team by calling 01233663340.
Image Source: Canva